Winter Solstice Mushroom Soup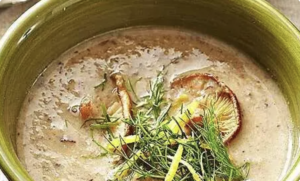 We are entering the solstice starting next week.  The days have been getting shorter and the nights have been getting longer, and it is hard not to notice how cold it is outside!  Winter is the season of yin, when we need to consolidate our energy.  It is a time to slow down and sleep more, spend more time at home, preparing meals from home.  
This time of year, it is important to eat foods that are slow cooked, braised, fermented, and brewed.  Our digestive systems are most capable of absorbing nutrients with foods that are long and slow cooked in the winter time.  One of the best ways to encourage healthy digestion in the winter is to eat soup!  Soup is easy to make and it is very delicious and satisfying on those chilly winter nights.
I made this recipe over the weekend and it was absolutely delicious!  Mushrooms are rich in Vitamin D, which we need more of in the winter.  Dill encourages circulation, which helps our bodies to stay warm.  You can use whatever kind of broth you like, I like bone broth b/c it has a lot of minerals and nutrients that are especially beneficial in the winter.  This soup is a great way to warm the yang and escape the chill!
Serves: 4            
Prep Time:  15 min
Cook Time:  30 min
Ingredients:
1 lb baby Bella mushrooms, sliced
1 lb Shiitake mushrooms, sliced
1 onion diced finely
3 tbsp olive oil
2 cups vegetable broth or beef bone broth
1/2 cup vodka or brandy
2 tsp dried dill
1 tsp caraway seeds
3 sprigs fresh thyme
2 tsp paprika
2 tbsp chickpea miso (or regular miso)
1 tbsp arrowroot or corn starch
1 tsp of apple cider vinegar
1/4 cup fresh dill
1/4 cup dairy free sour cream (such as kite-hill) – optional
In a heavy pot, sauteé onions and mushrooms in olive oil until translucent and tender, and allow mushrooms to release liquids, for about 15 minutes.  
Add vodka or brandy to deglaze.
Add dill, caraway seed, thyme, paprika, and vegetable or beef broth and turn the heat to high to allow the soup to simmer.  Cover and reduce heat to low.  Allow to cook for about 30 minutes.  
Whisk arrowroot or cornstarch with 1/4 cup of water until smooth.  Add to the soup mixture until it begins to thicken.  
Remove lid and add dairy free sour cream and allow it to melt.  Garnish with fresh dill and serve warm!