The Year of the Tiger is upon us!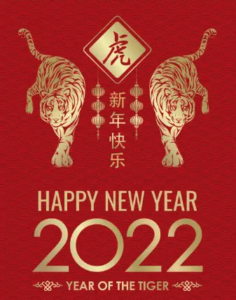 (Cue the 80's song, "Eye of the Tiger")
As the legend goes, the Jade Emperor challenged all the animals in the Kingdom to a "Great Race" and whoever arrived first would win!  The Tiger was sure that he had the race, but ended up placing third (ho hum) after the Rat talked the Ox into getting a ride. Oh those Rats, so clever!  So Tigers are competitive, courageous and ambitious people as a whole, like Lady Gaga, Penelope Cruz, Stevie Wonder and Jon Bon Jovi to name a few.  Tigers are also extremely generous with a drive to help others. Tigers want to win but they always seek justice!
Just because it's the Year of the Tiger, it doesn't mean that the theme of the year is the same for everyone and every astrological sign, it's actually totally different!  Check out what Joey Yap, the famous astrologer, has to say about how the year will be for your particular Chinese astrology sign.  Click here to read Joey's forecast.
Much like Americans the Chinese like to celebrate the New Year among family and friends, however they put just as much energy into preparing for the New Year as well!  Maybe even more so, I know I do!  There are so many tips and tricks to ensure the New Year is a prosperous and healthy one, from not washing your hair on New Year's Day to consulting with the Farmers Almanac on which way to walk when you leave your house New Year's morning!  Some are just old school and some are just fun.  Personally, I do take a lot of time to prepare for Chinese New Year.  CNY serves as a reset for me, after I've had a chance to relax from holidays and recollect it feels more natural to end things here instead of right up against Christmas or Hanukkah.  I make sure the house is clean, all loose ends are tidy when it comes to projects or debts, it feels like a total fresh start and feels great! If you want to partake in some traditions, here's some do's and don'ts to 'bless' your new year!
By New Year's Eve (January 31st), you should have done the following:
Clean the entire home to get rid of all the things that are associated with the old year.
Put away all brooms and brushes.
Pay debts.
Resolve differences with family members, friends, neighbors and business associates.
Buy oranges (good health and long life), tangerines (long relationships, fruitful and multiply for having children or persimmons for happiness and wealth).
Fresh flowers, if  a flower blooms on New Year's Day this is a sign of prosperity all year.
Get together with close family members for the "reunion" dinner.
Open every door and window in your home at midnight of New Year's Eve to let go of the old year.  I've also just been informed you can do this on New Year's Day at noon!  Which really helps me since I'm in bed at 9pm these days!
On New Year's Day (February 1st)…
Do not lend any money, otherwise you'll be lending all year.
Do not use foul language or unlucky words, like the word 'four" which is the word for death, don't talk about death or ghosts on this day.
Do not reference the past year or things in the past, only speak of the coming year.
Wear new clothes or shoes, especially bright red.
Eat candy in the morning for luck and also fish and chicken during the day.
Don't wash your hair.
Do not cry on New Year's Day or you will cry throughout the whole year.
Don't sweep the floor.
Don't greet people who are in mourning.
Don't drop your chopsticks.
Do not use knives or scissors.
The first person you meet or first words heard are indicative of the setting of the whole year.
There is also a lovely meditation with an egg called the Golden Cicada Sheds Its Shell.  It's customary to do this between 11pm-1am on New Year's Eve or 11am-1pm on New Year's Day.  Click here for more details.
One last note, if you do absolutely none of the above, try to carve out some time to have fun on New Year's Day!  Whether that's going out to lunch or dinner with friends or just taking some time to meditate or even going to a spa or somewhere else for some self care.  They say whatever you do on New Year's Day sets the theme for your year, so do something for you!
Enjoy and Gong Xie Fa Cai!
Christina Martin
Tao to Wellness
809 Hearst Ave
Berkeley, CA 94710