Give the Gift of Health this Holiday Season
There's so much to be said about gift giving around the holidays, some people love it, some people not so much, and others scrap it all together!  That being said, if you are looking for the perfect gift, why not create a gift bag of self care and health!
Here's some ideas that will definitely please almost anyone!  (NOTE: We are not affiliated with anyone below, we just like the product!)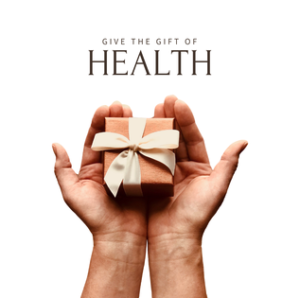 The gift of Meditation!  Face it, we all need it, so get the loved one in your life a year long subscription to a meditation app, there's so many out there with Headspace and Calm the leader of the pack.
 A Weighted Blanket.  Ahhhh, people love weighted blankets because they relieve anxiety and they help you get a more restful sleep.  Something about the weight just feels yummy and Amazon has a plethora of this at all different price points!
We know the holidays can be a time of excess– excess food, excess sweets, excess alcohol.  So, how about a non-alcoholic apertif that has a pleasant infusion of herbs, Gentian to support the liver and orange peel and ginger for the digestion to name a few.  You can still party without the cost the next day!  Check Ghia out!  https://drinkghia.com/products/ghia?sscid=c1k5_90790&
An essential oil sleep formula?  My friend, Valerie Bennis' award winning company Essence of Vali has a lovely sleep formula she's made, it comes in mist, balm and in drops.  I apply some drops on a tissue and tuck it under my pillow case or close by so I can inhale the scents all night long.  It's truly a treat and all natural, cruelty free- only good stuff. https://essenceofvali.com/collections/natural-sleep-aids
Speaking of essential oils, how about a diffuser?  If you are working at home, turn your office into a pleasure palace of scents — different oils can keep you calm or energize you when you are in a lull!  There are so many diffusers out there at all different price points, grab one with a pack of essential oils and have fun!
Lastly, it wouldn't be prudent if we didn't let you know that we offer gift cards as well.  Maybe someone in your life is just stressed out, or maybe they've been dealing with something for awhile, if you've read this far you probably love acupuncture and want to turn someone in your life onto it.  We offer gift cards at any price just email christina@berkeley-acupuncture.com and she can get you set up!
Thanks for reading and have a wonderful holiday season!  May your month be full of sweet tranquility, a thousand laughs and memories to last a lifetime!