Using Acupuncture for Anxiety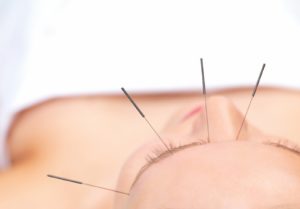 "I've had many patients with tons of chaos in their lives that was, of course, reflected into their physical body (digestive complaints, migraines, pain). As a therapist, trying to work through all of that can be challenging. When I've sent them to the team at Tao to Wellness, they started feeling better physically almost immediately, which made their emotional state more flexible to change, which got them faster results with me. I'm so grateful to the ladies at Tao to Wellness." – A Berkeley therapist
The practice of Chinese medicine doesn't discriminate whether the issue is physical, mental, emotional or spiritual. They are all one in the same and everything is interconnected by way of meridians or pathways that are connected to it's respective organ.
Concerning the emotional plane, people are always surprised that acupuncture can work in this realm. "Can acupuncture really help anxiety?" is a common question and the answer is, absolutely and with a rebounding yes! Not only does it work with anxiety, but depression, sadness, grief, heartbreak and all types of fear to name a few.
Treating Anxiety with Chinese Medicine
When we use Chinese medicine and acupuncture for anxiety issues, it's not just the emotion itself that we consider, we take into consideration the whole body, we look at the physical, the mental, the emotional and diagnostic tools like the tongue and the pulse, all of these things help give us insight as to why the patient is experiencing this imbalance and they also give us insight as to what the best acupuncture points are for this particular patient.
To give us a deeper look, anxiety can manifest from different organ systems, but most of the time it's an imbalance of the Heart that is the main issue. The Heart is in charge of circulation, as it is in Western medicine, but in Chinese medicine it is also the ruler of all mental and emotional processes. Because the body is interconnected, balancing the Heart is not enough because it's usually other organs that are causing the anxiety. For example, if your Liver is involved perhaps you have anger or irritability that is heating up the Heart causing the anxiety. If there is Spleen involvement, maybe it's excessive worry or pensiveness that is causing unrest in the Heart. And lastly, if you constantly operate from a place of fear, it could very well be the Kidneys that are not communicating effectively with the Heart. Sometimes even all three are affected; this certainly doesn't make our task any more daunting since everything is connected. Using acupuncture for anxiety issues is a wonderful support tool and can get miraculous results, we've seen it in our office time and time again.
Commonly when patients experience chronic anxiety, we usually see one or more other symptoms associated with the anxiety. What happens over time is the anxiety creates an imbalance, much like what was laid out in the previous paragraph. So, with the imbalance of that organ(s)– let's say the patient may be experiencing a Heart and Liver imbalance– some additional symptoms that might be rearing it's ugly head are insomnia or just trouble sleeping deeply, headache especially along the Gall Bladder channel, PMS or menstrual cramps and so on and so on. The same goes for the other way around, let's say a patient who has been experiencing a Heart imbalance with daily palpitations and dizziness, might start to have anxiety because of it. The great news is with acupuncture and Chinese herbal medicine we re-balance that organ which leads to diminishing or disappearing of all the emotional and physical symptoms.
We commonly work alongside therapists as well. We are lucky and blessed to have many therapists around the East Bay area referring their patients to us. One Berkeley therapist said, "I've had many patients with tons of chaos in their lives, that was of course reflected into their physical body (digestive complaints, migraines, pain). As a therapist, trying to work through all of that can be challenging. When I've sent them to the team at Tao to Wellness, they started feeling better physically almost immediately, which made their emotional state more flexible to change, which got them faster results. I'm so grateful to them."
What are the acupuncture benefits for anxiety issues?
Stability in brain chemistry
A huge decrease in stress which can give one a clearer outlook
Enhanced circulation so the Heart (ruler of emotions) can balance faster
A decrease in inflammation overall, which relaxes the body
An optimally functioning physical body that allows the emotions space to release, balance or heal.
Acupuncture and anxiety are polar opposites which makes acupuncture the perfect antagonist to heal the issue and bring about tranquility in the mind and body.
Another modality that really helps anxiety is meditation. Quieting our, as the Buddhists call it, "monkey mind" is key in ANY emotional balancing. Our minds are going a mile a minute in replaying old conversations or thinking about future ones, strategizing life, planning days, months, vacations, and fantasizing about those vacations, being upset and hurt about something that happened yesterday that we just can't let go of or we are worried, worried about our health, our families and friends, and then there's fear; fearful of what's coming up or fearful about what's not coming up; which is called the unknown. Our minds never really get a break and then depending on how your diet is and if you're brain is getting the proper nutrients, it's not wonder a lot of us are having a hard time. Meditation can be easy and can be useful in the spur of the moment, for example on line at Trader Joe's or the bank or waiting for your laptop to restart, just take a moment and clear your mind and breathe. That's all!
If you are feeling curious and want to look at alternatives, send us an email or give us a call. We'd more than happy to talk about your specific needs and see if we are a good fit for you. We offer free consultations if you'd like to come by the office and get a feel for us and our space.