Our Team – Tao to Wellness – Berkeley CA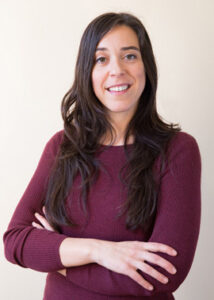 Deanna Tasi, L.Ac.
Lead Acupuncturist
deanna@berkeley-acupuncture.com
Simply put, Deanna Tasi loves what she does. She lives and breathes the medicine, and is grateful to be able to help patients with everything from stress and pain management, to fertility treatments. Before joining Tao to Wellness in 2016 she had already provided over 10,000 treatments in a community setting. Since joining Tao to Wellness she's had the fortune of developing her focus in fertility- assisting countless women on their fertility path.
Deanna first became interested in studying Chinese medicine while taking Qi Gong classes. Inspired by the movement therapy and self-massage of the acupuncture points, in 2004 she began studying Tui Na, acupressure, and other Asian bodywork therapies, completing over 1,000 hours of training at the former Acupressure Institute in Berkeley. Becoming an acupuncturist and an herbal practitioner was a natural progression to nurture her expanding interest in health care. She earned her Master's degree in Traditional Chinese Medicine at the Academy of Chinese Culture and Health Sciences in Oakland, and is licensed in the state of California.
Originally from the midwest, Deanna completed her Bachelor's degree at the University of Minnesota, studying Biosystems and Agricultural Engineering with an environmental emphasis. A long-time advocate for the environment, she sees the relationship with our bodies and our lifestyles as an intricate part of how we impact the world around us. When not slinging needles, Deanna enjoys spending time in nature, traveling, and sharing meals with friends. In 2019 she had the opportunity to combine a few of her loves- traveling on a medical service trip to Nepal to provide acupuncture and herbs to underserved communities. Deanna strongly believes that healing begins with ourselves, so that we can extend the benefit to others.

Dr. Kim Peirano, DACM, L.Ac.
Dr. Kim Peirano, DACM, Dipl.OM, L.Ac. is a transformative healer dedicated to guiding her patients on their personal growth, healing and transformation journeys through the depth and power of East Asian Medicine and Acupuncture treatments. Her own personal commitment to her unique path of growth and self development shines through in her treatments and interactions with patients, holding a safe, compassionate space for vulnerability, depth and transformation. With a multifaceted approach that encompasses ancient wisdom, multiple modalities, trauma-informed care, and Taoist theory, Dr. Kim harmoniously integrates the body, mind, and spirit to unlock the full potential of healing.
A practicing Acupuncturist since 2010, Dr. Kim graduated from The Acupuncture & Integrative Medicine College in Berkeley and further received her Doctorate in Acupuncture & Chinese Medicine from the Pacific College of Health Sciences in 2018. Her expertise spans a wide range of issues and illnesses, with a particular focus on stress management, well-being, and the impact of illness or pain on overall health. She has successfully supported clients through major life transitions, chronic pain and illness, fertility concerns, eating disorder recovery, spiritual growth, sports medicine, orthopedics, end-of-life support, and hospice care.
During a session with Dr. Kim, the profound connection between body, mind, and spirit is bridged. Her intuitive abilities, combined with her additional training as a Jungian Life Coach and Medical Hypnotherapist, Neuro-Emotional Technique, and other energetic healing modalities, work synergistically with acupuncture and herbal medicine. By integrating guided visualization and other techniques into the treatment room, Dr. Kim empowers her patients to access their inner knowing and truth, enabling them to experience deep healing beyond the physical realm.
As a member of the Association for Size Diversity and Health (ASDAH), Dr. Kim embraces a Health At Every Size approach to healing. She also serves as a board member of the California State Oriental Medical Association (CSOMA) and is the Founder and Director of The Integrative Healing Institute, a 501c3 non-profit organization dedicated to providing spirit-mind-body education to health practitioners and the general public. In her free time Dr. Kim loves getting outdoors and is an avid open water rower and swimmer, enjoys hiking around the bay and spending quality time with her incredibly fluffy cat Marcus.

Christina Martin, L.Ac., Dipl.AC, MTOM, FABORM, CPCC
christina@berkeley-acupuncture.com
"Detoxing of all things is necessary in life, for peace of mind, exquisite self love, room for growth and sound physical health."
Christina has been in the health and wellness field for 25 years. An acupuncturist, Chinese herbalist, wellness coach, meditation teacher, maker of magic and a detoxification specialist. Christina is based in New York where she splits her time between Manhattan and Long Island.
Currently, she's most passionate about the necessity of detoxification and how it can lead to great change in all aspects of your life. She says, "The Program is multilayered and takes the body through Phase 1, 2 and 3 detoxification while also giving space for self discovery inside of the elimination diet, not only do we detox, we reset food cravings, we talk about dopamine, meditation, how to lessen your toxic load in general and many other things. The entire program is a well thought out journey of learning, support, fun and community." After guiding many Tao to Wellness patients through elimination diets and detoxification over the last 15 years, the program expanded nationally and became virtual in 2021.
Christina holds a Master's Degree in Traditional Chinese Medicine, is a nationally certified Diplomat of Acupuncture, a Fellow of the Acupuncture and TCM Board of Reproductive Medicine and a licensed Co-Active Life Coach. She offers acupuncture in Manhattan by way of house calls only and for fun she's recently become a meditation teacher on Insight Timer. In her down time, she loves cooking, Broadway shows, time in nature and adventures in the city.