A Quick Fix for a Sore or Congested Throat!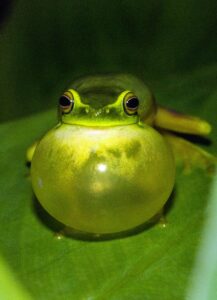 It has been a very difficult season so far for infections.  COVID cases are on the rise, as are the flu, RSV and strep throat.  If you find yourself with strep throat, you will be sent home with antibiotics and put on bed rest.  If you find yourself with the flu or COVID, you will be put on bed rest and waiting for recovery.  And unfortunately, we won't be able to treat you in the office until you get better!  So what can you do at home to accelerate your healing and get some relief?
Here's a little story…..
I had an unfortunate case of strep throat while I was away from the office post Thanksgiving.  I wasn't able to swallow for two days and, unfortunately, the infection spread to my ear and I wasn't able to hear for a few weeks. I took dozens of COVID at home tests all of them were negative.  But I felt like someone took a Brillo pad to my throat.  I went in to the doctor got a positive strep test and was sent home with antibiotics and was told I would feel better in 2 days.  Unfortunately, I still felt sick.  Western medicine had done its job, I had followed its path and now the path was at an end.  I had the tools I needed to give myself some relief, and I wanted to do whatever I could to get better and the determination to see it through. 
So, I decided to write this story so I could share with you some tools and some products that can give you some relief while you are getting better.  This is going to be part of a series where I will discuss various techniques and at home treatments that you can try to give you some relief.  Please note that none of this is a substitute for an MD so please consult your MD if you have questions.
How Do I Get Rid of a Sore or Congested Throat Quick?
Watermelon Frost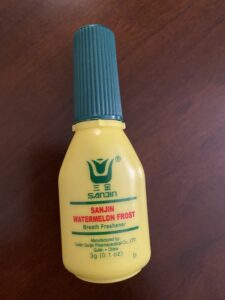 This product is awesome!  You can use it for a sore throat, for oral ulcers, canker sores, even chronic bad breath. It's very fascinating the way that it is made.  It's made is by placing watermelon with some salt into clay, earthenware jars.  They allow them to sit for a period of time and, on the outside of the jars there is a white substance that is scraped off called "frost".  I managed to find this fascinating video on how it is made from seed to bottle.  In this video, he makes it with the watermelon fruit but traditionally it is made with the rind as well.  It is often combined with some other Chinese Herbs and made into a powder.  The way you use it is you puff it into your mouth.  Ever used dry shampoo on your hair?  It's kinda like that, for your mouth.  What I did was puff it into the back of my throat, on my tonsils.  It feels very refreshing, cooling and moisturizing.  It gave me instant relief! 
It tasted terrible, but who cares? It made me feel better, when western medicine failed to give me any relief.
To use on a sore throat, look into a mirror.  It's helpful if you have a flashlight and a tongue depressor handy.  Open your mouth and say "Ah!" and gently puff the watermelon frost a couple of times onto your tonsils (those large circular glands in the back of your throat).  Make sure that the bottle is relatively upright when you do that, b/c if its upside down it won't come out.  
To use on a canker sore, apply about a pea sized amount to your palm and apply directly to your canker sore. 
You can order watermelon frost on amazon.
Gargling with Salt Water or Apple Cider Vinegar
This helps more if you have a lot of congestion on the throat than if you throat feels raw and dry.  If your throat feels raw and dry, I would recommend the Watermelon Frost.  
This method is pretty simple.  Combine a cup of warm water and 1 tbsp of salt, or warm water and 2 tbsp of vinegar and gargle for a few minutes.  You can get a little creative and make some mint tea or throat coat tea and do this method as well.  Gargle for 5-10 minutes.
By the way, Little Apple Treats makes a fire cider vinegar that is awesome.  Aside from making amazing vinaigrettes and marinades, it's really helpful for colds and flus.  It has ginger, turmeric, horseradish, and chili peppers which will also accelerate your healing.  A chiropractor told me that he recommends gargling with warm water and fire cider vinegar as a prevention measure when exposed to infected individuals.  All of their products are great and they make their vinegar with organic Gravenstein apples.  
Disclaimer:
The information contained within this article is for informational purposes only. No material on this site is intended to be a substitute for professional medical advice, diagnosis or treatment. Always seek the advice of your physician or other qualified health care provider with any questions you may have regarding a medical condition or treatment and before undertaking a new health care regimen, and never disregard professional medical advice or delay in seeking it because of something you have read on this website.